Istanbul continuously confirms its status as one of the world's metropolitans. First there was fierce voting to get Istanbul included in the first Global Monopoly board game.
And recently, EarthTV has installed a brand new camera to give you 'live' daily impressions of the bridge between Europe and Asia.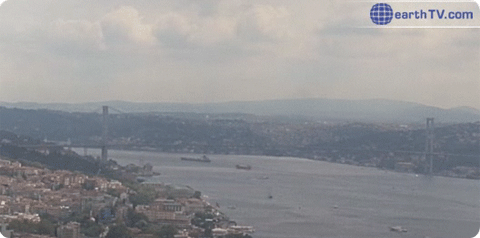 The Earth television network was founded in 1998. Its main objective is to bring the world together LIVE on television and via the web as it evolves day by day, hour by hour – in all of its diversity and beauty. With currently more than 70 cameras on 6 continents, earthTV captures the world at its daily pulse.
Recently they have put a camera on top of the Marmara Hotel in Taksim. This camera records a small movie of mostly the Bosphorus, three times per day at seemingly random intervals.
Of course there are better pictures of the Bosphorus available, but this little gadget may give you a 'live' impression of what the weather is like at your future destination.