Printable Tourist Maps of Istanbul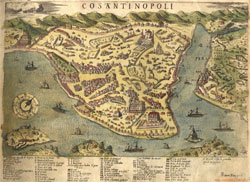 Without a few decent maps of Istanbul, you'll have a hard time locating all the places worthwhile visiting. You'll need a map of Istanbul to find your way around, but also even before you set sail for Istanbul. While planning your city trip, it may come in handy to choose a hotel, pick a suitable restaurant or bar, or while planning what museum, mosque or palace to visit on a certain day.
The maps below are created by yours truly via Google Maps. Click on any place marker to obtain more information about the sightseeing spot. The maps are also printable, after clicking on the View Larger Map link. Keep in mind though that the information behind the different place markers will not be printed.