If you're a carnivore, you should at least eat once in The Hamdi Restaurant (Hamdi Et Lokantası). Located on Eminönü Square, close to the New Mosque (Yeni Camii) and more or less next to the Spice Bazaar, this restaurant has turned grilling meat into an art. Combined with a panoramic view of the Golden Horn, it's an opportunity you simply can't afford to miss.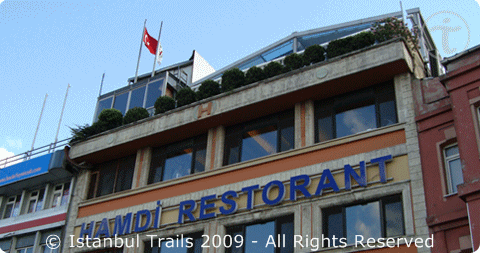 Hamdi Restaurant (Hamdi Et Locantası)
Location
Tahmis Caddesi Kalçın Sokak, Eminönü
on Map with My Favorite Restaurants in the Historical Part of Istanbul
Tel: +90 212 528 03 90 / +90 212 512 54 24
Open
Daily till midnight.
Credit cards are accepted.
What started out as a one-man show by Hamdi Arpacı himself after moving from Urfa to Istanbul in 1960, grew into one of the locals' favorite restaurants.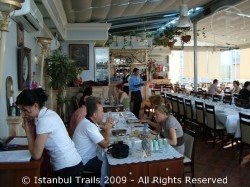 Besides the obligatory and delicious mezes and an assortment of hot starters, the Hamdi Restaurant offers nothing but meat dishes. You can choose from twelve different kebap dishes, grilled to perfection on the charcoal fire (mangal). A glass of cool rakı is the obvious choice to go along with it, but there are of course plenty of other alcoholic and non-alcoholic beverages available.
The Best Spot in the House
Since the place is so immensely popular, despite the fact that it consists of 5 floors with a total capacity of 500 people, you should make reservations.
If the weather is hot, try to get a table on their small terrace. These seats are just priceless. But even if those are no longer available, there is no need to panic. The entire top floor offers a great panoramic view over the Golden Horn and is especially during summer very enjoyable with the windows opened completely. And even if they can't fit you in there, you can still opt for a table in the Oriental saloon, reflecting the south-east culture.
Starters are TL 5-10, main course TL 13-18.