The lively Nevizade Street (Nevizade Sokak) in Beyoğlu, located in the modern part of Istanbul, is where the party's at, on any night of the week, winter or summer. A trip to Istanbul simply is not complete without having tasted the mezes (cold starters) in one of the many meyhanes (taverns), or having enjoyed a beer on the terraces of the various pubs.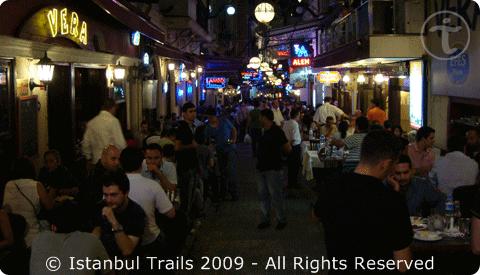 The Most Atmospheric Eating Spot in Town
Nevizade is a small street parallel to Istiklal Caddesi, located behind the historical Flower Passage (Çiçek Pasajı) and easily accessible via the Fish Bazaar (Balık Pazarı). Marked with

on the Map with Tourist Attractions in the Modern Part of Istanbul. While Nevizade is the name of the main street, it actually refers to whole nightlife area, including the maze of small streets connecting to it.
If Nevizade is not the most famous eating and drinking area of Istanbul, then it certainly is the liveliest. On any given night the streets are packed with people, young and old. All with the same goal – having a good time out while enjoying mezes or other small dishes, accompanied by alcoholic beverages – being it rakı, beer or wine.
Any Meyhane in Nevizade Will Do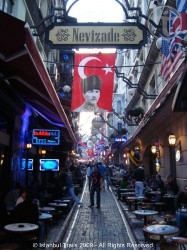 As soon as you enter the Nevizade Street, waiters will try to convince you to pick their restaurant. Food wise you can't go wrong in any of them. Just walk up and down the street first, and pick the one which offers you the most attractive table. Personally, I'm a regular of the Nevizade Restaurant.
In the meyhanes, musicians playing fasıl (mostly classical Turkish) music wander from table to table. Be aware though that it's considered rude to have them play a few songs without tipping them (TL 10-15). So make sure to kindly decline their offer as soon as they approach your table if you're not a big fan of the genre.