Istanbul Hotel & Area Guide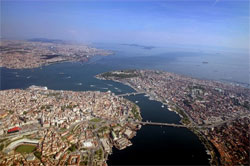 I think it's fair to say that the articles listed in this category should be labeled as mandatory reading.  Not only will they assist you in picking the hotel of your choice, but more importantly in the correct area of Istanbul!
And in order to do so, you should get yourself acquainted with the different areas of Istanbul. I won't give you a lowdown of every single suburb or street in Istanbul. But to maintain the big picture while wandering around town, basic knowledge of the main tourist areas is a must.
It will also help you plan your day, or your entire trip for that matter. This way you won't find yourself spending more time in traffic (jams) instead of in Istanbul's finest sightseeing spots. Therefore, don't forget to also check out the Istanbul maps section for a more visual overview of the areas and their tourist attractions.
Areas in Istanbul
Accommodation