While there are several countries that lie on more than one continent, Istanbul is the only city in the world built on two continents.
Istanbul's coordinates are 41 degrees north, and approximately 29 degrees east. Not a big deal. But if you would follow that 41°N parallel around the globe, you'll find out that Istanbul finds itself in good company with cities like Naples, Barcelona, Madrid and New York.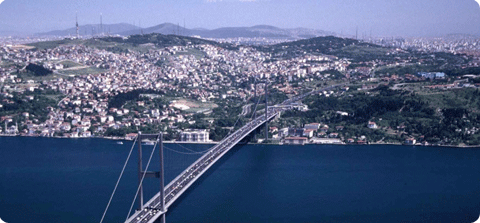 Marmara Region
Istanbul is situated in the north-west of Turkey's Marmara Region, called after the Sea of Marmara (Marmara Denizi). The city is divided by the Bosphorus (Boğaziçi), a narrow and deep strait that connects the Sea of Marmara with the Black Sea (Karadeniz), giving Istanbul its unique location. The western part of Istanbul lies in Europe, while the eastern portion is part of Asia. Istanbul also encompasses a natural harbor known as the Golden Horn (Haliç).
The old city covers a surface of 1.500 square kilometers, while the metropolitan region, consisting of 34 municipalities, is roughly 6.000 square kilometers in size and still growing.
Seven Hills
Istanbul is also nicknamed The City of Seven Hills, just like Rome:
The first hill starts at Seraglio Point and covers the whole area containing the Hagia Sophia, the Sultanahmet Mosque and Topkapi Palace.
The second hill can be found at the Nuriosmaniye Mosque, Grand Bazaar and Çemberlitaş.
Istanbul University, the Beyazit and the Suleymaniye Mosques now occupy the third hill.
The fourth hill is located in Fatih and now holds the Mosque of Mehmet the Conqueror.
The fifth hill can be recognized by the presence of the Mosque of Sultan Selim.
The sixth hill can be found in the Edirnekapı and Ayvansaray districts.
The seventh hill extends from Aksaray to the old city walls and the Sea of Marmara.
North Anatolian Fault
Istanbul is also located close to the North Anatolian fault line, making it an earthquake sensitive area. The North Anatolian fault line runs between the African and Eurasian tectonic plates. Since the Arabian and African plates move to the north, the Anatolian plate is pushed into the Eurasian plate and squeezed towards Greece.
This creates a little bit of stress, which accumulates and every now and then is released in the form of an earthquake. The most devastating occurred as recent as 1999, killing nearly 20.000 people and leaving over 100.000 homeless. Seismologists predict another earthquake before the year 2025, possibly measuring a magnitude of 7.0 on the Richter scale. But then again, nobody really knows for sure if nor when an earthquake will happen.