Şile is a small holiday town by the Black Sea, 70 km from Istanbul (see

on Map with Tourist Attractions beyond the City Center of Istanbul). It's well-known for its long, fine, sandy beach, the production of cotton and its black-and-white striped lighthouse on top of a cliff.
Public transportation buses depart regularly from Üsküdar and should take you to Şile in just over one hour.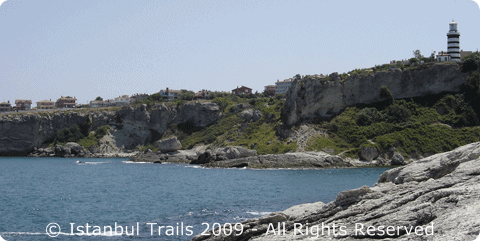 Ever since 700 BC Şile has been a fishing village. In those days, the village was known as Kalpe and was a port of call for ships sailing east from the Bosphorus. The port was of such an importance that already during the Ottoman era, Sultan Abdül Aziz had the French build a lighthouse for it. Even today this black-and-white striped lighthouse on top of a cliff remains a distinct feature of the town, together with the 14th century Genoese castle on the nearby island. (see Şile picture gallery)
Şile is also famous for its craft, the Şile bezi. It is a light, see-through cotton cloth with hand embroidery, sold by the women on the streets of Şile as well as all over Turkey.
Although the fishing and cotton production are still good income sources, starting from the 1990's, many summer houses and holiday villages were built for the city's middle class. They were and still are attracted by the white sandy beaches and the laid-back atmosphere. (See video of Şile)
The town has plenty of accommodation available, ranging from 5-star hotels over guest houses to pensions. It can get very crowded during weekends and holidays, so make reservations before you go. Among the best known places to spend the night are Dedeman Şile, Fener Motel and Woody Wille.