5.Kat (Beşinci Kat) was Istanbul's first rooftop cafe, bar and restaurant, hence trendsetter of the genre. Kat is Turkish for floor, and beş means five.
You guessed it correct; this popular venue is located on the fifth floor of a building in the backstreets of Cihangir, offering excellent food and beverages in an elegant setting with breathtaking views of both the Bosphorus and Sultanahmet alike.
5.Kat Cafe Bar Restaurant (Beşinci Kat)
Location
Soğancı Sokak 3, Kat.5, Cihangir – Beyoğlu
on Map with My Favorite Cafés and Pubs in the Modern Part of Istanbul
Tel: +90 212 293 37 74
Open
Daily from 10:00 till 02:00. Fri-Sat until 03:00
Credit cards are accepted.
Make reservations if you want good seating arrangements.
Interior and Location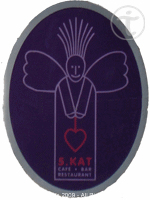 5.Kat was founded by the famous red-haired actress Yasemin Alkaya, who still keeps a close eye on things and is often spotted on the premises. The easiest way to get to 5.kat is to walk down Sıraselviler Caddesi from Taksim Square. After about 10 minutes you'll pass the German hospital (Alman Hastanesi), after which you take the first street left. After 50 meters you should spot the 5.Kat angel logo at street level (see picture). Locate the small elevator inside the building and press five.
This excellent bar and restaurant actually consists of two floors: a covered fifth floor with full-length windows on one side, and one up the actual rooftop which is used during summer. Both interiors are strikingly decorated with deep red walls and velvet furnishing as well as plenty of candles. The breathtaking views (see 5.Kat picture gallery) are the same on both floors, but having the sea breeze bring some cool on hot summer nights offers that nice extra touch.
On the Menu
Every day 5.Kat starts out as a cozy cafe where you can enjoy brunch or snacks and light drinks. Around the time the sun starts setting, tables are set and candles lit for dinner while the bartender serves aperitifs. Starting 22:00 the DJ, playing anything from Abba to Zappa, cranks up the music and the venue transforms into a bar and nightclub.
Beşinci Kat offers samples of the world's kitchen with tasteful pasta, meat, chicken and seafood dishes. Prices range from TL 20 to 40. Accompanying drinks range from TL 8 (beers & local spirits) to TL 15 and above for cocktails, imported wines and spirits.
Special Events
On Saturday and Sunday you can enjoy a buffet brunch (TL 30) between 11:00 and 15:00 including fresh fruit juices, daily prepared home-made rolls, cookies and pies as well as delicious meals in olive oil.
Every month 5.Kat also organizes some special nights. Among the most popular events are 'What they eat, drink and listen to' where famous guests elaborates on his or her habits, and 'Singles nights' when no couples are allowed.