So you don't belong to the happy few that don't need a visa to enter Turkey.
This means you can either obtain your visa a few weeks prior to your visit in a Turkish embassy or consulate in your country; or buy your visa upon your arrival at the Turkish border. But how much will it cost you?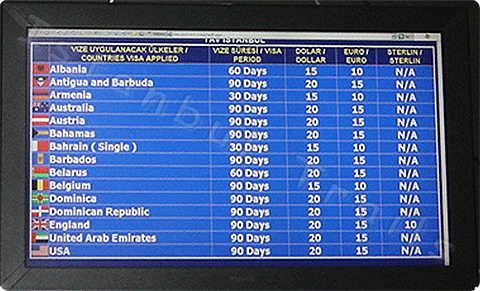 This information was accurate at the time I wrote this article (check the date!) and should be valid until October 31st 2008, but is of course subject to change. Although I try to keep these pages continuously up-to-date, I cannot be held responsible for any mistakes. To be absolutely sure, you can always check out the web-pages of the Ministry of Foreign Affairs of Turkey or contact the Turkish consulate or embassy in your country.
Cash Is the Key
Check the visa price list below and see what fee you'll have to pay. Keep in mind that they don't accept credit cards, travellers cheques nor Turkish liras. The fees must be paid in foreign currency, so make sure you bring Euros, Dollars or Pounds with you. And try to have the exact amount on you, since chances are they don't have change.
Visa Price List
This price list is valid until October 31st 2009. The fees are per person.