Once you've made your way out of the airport, there is of course still the matter of getting to your hotel. If your hotel reservation includes a free airport pick-up, you're all sorted. If not, do keep on reading since you have a few options.
Let me give you a rundown of the cheapest, quickest and laziest ways to downtown Istanbul.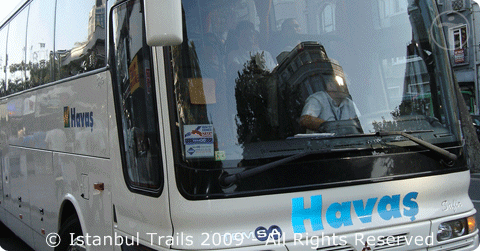 For the sake of this article, let's assume you booked accommodation in either the historical part of Istanbul (Sultanahmet) or in the modern part of Istanbul (Beyoğlu, Taksim).
Whichever means of transportation you decide to board, first make sure you have some Turkish liras on you. None of them will accept credit cards, and with the exception of the taxi drivers, not even big Turkish lira notes. You'll find ATMs and an exchange office inside the airport.
Taxi
Taking a taxi to get to your hotel is not only the most obvious choice; it's also the easiest one. There are plenty of taxis waiting to bring you to your destination. Sometimes taxi drivers are already looking for customers inside the terminal. To be on the safe side, I would not take them up on their offer and rely on the official ones. Once you're outside the terminal, you'll see them all nicely lined up, waiting for their turn.
Under normal circumstances, you should arrive at your destination in approximately 30 minutes, which would make a taxi ride also the quickest means of transportation. Unfortunately, open roads are in Istanbul more an exception than a rule. Don't immediately start accusing your taxi driver of making detours when it takes a bit longer. He doesn't like traffic jams any more than you do, because he gets paid per kilometer. A trip from the Atatürk Airport to Sultanahmet will set you back for around TL 30, to Taksim you may have to pay TL 35. Since a taxi ride from the Sahiba Gökçen Airport takes approximately 1 hour, hence will be pretty expensive (TL 65), I advise you to use a shuttle service.
Taxi drivers don't know every hotel in town by heart, so make sure you have a piece of paper with the name of the hotel, the address and the telephone number written on it. In case he is not sure about its location, he will ask for directions on the street or call the hotel reception.
Airport Shuttle
While a taxi is certainly a good choice when travelling with a group of people, when you're single or only two, you may want to consider an airport shuttle service. There are two airport shuttle services, each handling passengers from and to both the Atatürk and the Sabiha Gökçen Airports. However, the way they operate, their destinations and prices are slightly different.
The Havaş airport shuttle service uses very comfortable air-conditioned busses. From the Atatürk Airport they go practically non-stop to Taksim and cost only TL 10 per person. The drawback is that they only go to Taksim. Therefore, if your hotel is located in a different area, it may not be worth the trouble. The same goes more or less for their transfers from Sabiha Gökçen Airport, where the bus will take you to either Kadıköy (on the Asian side, from where you can take a short ferry to Sultanahmet) or Taksim (on the European side). A ticket costs TL 10 per person.
Busses depart every half hour to and from the Atatürk Airport between 4 a.m. and 1 a.m. After 1 a.m. different shuttles operate based on passenger intensity. From Sabiha Gökçen, busses leave after a plane has landed. Between midnight and 6 a.m., ticket fees are increased with 25%.
You can find the airport shuttle service outside the terminal. Look for the busses or the Havaş sign. Since they also go to different parts of town, ask which one is going to your destination. The bus driver will put your luggage on the bus. Again, to be on the safe side, watch him load it and get on the same bus. There is no need to buy a ticket upfront; the bus driver will collect the money just before departure.
Alternatively, you may use the Istanbul Airport Shuttle Service. The advantage is that they will pick you up from any airport and take you to the door of your hotel, regardless of the  area it is located in. The disadvantage is that you have to make a reservation through their website prior to your arrival. From the Atatürk Airport, a transfer will set you back for € 7, from Sabiha Gökçen you pay € 10 per person. As an exception to the rule, they prefer to be paid in Euros.
Metro
Public transportation is undoubtedly the cheapest option if you arrived at the Atatürk Airport. Unfortunately, it is also the most adventurous one, and not an option if you landed in the Sahiba Gökçen Airport. Getting on the metro at the Atatürk Airport is pretty straightforward. Buy a token at the ticket office for only 1,5 TL and hop on the metro. But no matter whether you're heading for Sultanahmet or Taksim, at the Zeytinburnu station you will have to get off and get on the tramway to Kabataş. This switch unfortunately requires dragging your suitcases up and down some stairs as well.
Once on the tramway to Kabataş, those going to Sultanahmet can't go wrong. Just get off at the respective stop. However, if you are going to Taksim you need to take the funicular (Füniküler) from Kabataş to Taksim Square (Taksim Meydanı).
Keep in mind though that you'll have to buy a new token for every transfer you make. The metro and tramway systems operate from 6 a.m. till midnight.