This may seem like a strange article, not in the least because of its length. But people who have ever queued the line at the Atatürk Airport passport control for half an hour or more, only to find out that they had to buy their visa somewhere else first and were therefore sent back to the end of the line, will understand why you better read this small post before you take off.

Finding your way to the passport or border control is easy. Just follow the respective signs, even the ones reading Baggage Claim will take you there. It's only once you arrived there that it gets tricky.
Buy Your Visa First
If you don't already have a valid visa, and you are a national of the countries that are allowed to buy their visas upon arrival, you need to buy your visa first. Don't be tempted to queue for the border control without it because it will only result in a huge loss of time, not to mention the humiliation of being refused to enter the country in front of others.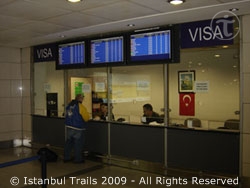 You can find the visa sales point at the left-hand side of the border control gates. Where this used to be an obscure ticket window in the past, it has been modernized in recent years, clearly showing what fees apply.
Don't forget to bring the exact amount of money in Euros, Dollars or Pound Sterling, and a valid passport of course. Once set, proceed to the border control.
Border Control
As in most airports, there are two separate sections for the passport inspection: one for the Turkish citizens, and one for the rest of the world.

So unless you are holding a Turkish passport, make sure you follow the arrows Other Nationalities. The airport authorities have reduced the chance of confusion by improving signalization, so these days it's hard to miss the correct entrance.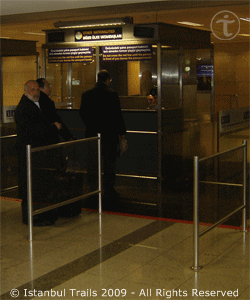 Entering the country can be time-consuming. Only after the police officer has put in your name, passport or identity card number, birth year, date of entry and nationality into his computer, will he stamp your visa. You should carry your visa on you at all times while exploring the city.
Make also sure you don't lose it, because you'll have to present it again upon departure. When overstaying or losing your visa, you will be liable to pay a substantial fine, depending on the duration you have overstayed. From the moment you have overstayed your visa, the minimum fine is TL 98, rising incrementally each day to TL 193 for one month. If you overstay even longer than one month, the fine increases exponentially.