This may seem like a strange restaurant tip. Sultanahmet Köftecisi is a place that doesn't have a real menu, obviously doesn't care too much about its interior design, doesn't serve alcoholic beverages, has no starters and only one dessert, expects you to vacate your table in less than 30 minutes, yet is a must-have-done experience even the locals queue for.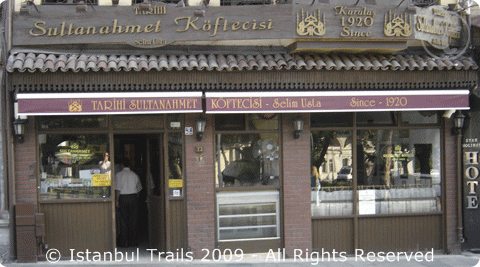 Sultanahmet Köftecisi
Location
Divanyolu Caddesi 12A, Sultanahmet (the main street with the tramway)
on Map with My Favorite Restaurants in the Historical Part of Istanbul
Tel: +90 212 513 14 38
Open
Daily from 9 a.m. till 11 p.m.
Credit cards are accepted.
Sultanahmet Köftecisi is the ideal place for a quick and tasteful lunch. The restaurant is famous for its delicious meatballs (köfte) and has been an institution in Sultanahmet since 1920. The place is crowded with locals grabbing a quick and cheap lunch. Beware though, there are many restaurants carrying the same name in the area, so make sure you enter the original.
This no-frills restaurant only serves meatballs (köfte) and shish kebab of lamb (kuzu şiş kebap). They are served with bread. If you prefer a side dish, you can choose between rice (pilav), a season salad (mevsim salatası) or a mixed salad with beans (piyaz).
Unless you're really not into meatballs, I would highly recommend the köfte. You can season it with crushed dried pepper (pul biber) which you'll find on the table. Go easy though, they can be very hot! A refreshing glass of cool buttermilk (ayran) goes very well with it, but you can of course also order a coke, mineral water (kapalı şişe su) or soda (maden suyu).
Enjoy your meal.