It is custom to tip in Turkey. In the majority of Istanbul's bars and restaurants, service is not included. But tipping is not only expected for table services. So, for what services are tips expected, and how much?
On the other hand, the value-added tax (VAT) is always included in the prices displayed. But as a tourist, you can benefit form Tax Free shopping in over 2.000 retail outlets.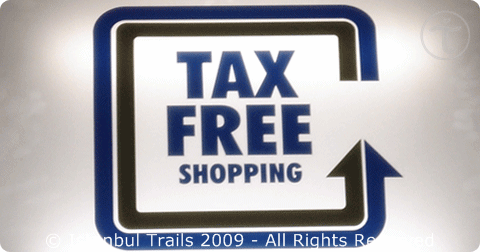 Tipping
In places where service is not included, it is custom to tip for the table services you received. And even in the handful of places where service is included (look for the words servis dahil), just as on mainland Europe the waiters will expect you to tip on top of that.
The rule of thumb is to leave a tip worth 10% of the bill in restaurants, cafés and bars. Bills are always brought to your table on a plate, in a box or in some kind of booklet. Although you can pay the bill with your credit card in 99% of the places, adding an amount to the original bill before paying with your credit card is not (yet) possible. Be prepared to have some cash money on you for tipping.
But restaurants, cafés and bars are not the only places where tips are expected. It is also custom to tip hotel staff, porters, hairdressers and musicians. The amount is at your discretion, but the norm is TL 2 per person. Hamam attendants however expect 25% of the bill. Tipping taxi drivers is not custom, unless he helped you load the luggage.
Tax Free Shopping
On every purchase you make in Turkey, a value-added tax (KDV) of 8 or 18% is included in the price. As a tourist, you can claim that tax back and retrieve a refund of up to 12,5 % of the purchase price. There are however a few rules:
you must reside outside of Turkey
you must spend TL 100 + VAT or more in one shop in one day
the goods need to be exported within three months following the month of purchase
you must buy the goods in Tax Free affiliated stores (look for the Tax Free logo)
you must ask the shop owner to prepare the Global Refund Cheque when paying for your goods
How to retrieve your money?
Regardless of how you travel back home, you have to locate the Customs Officers. You need to show the custom officials your purchases, Global Refund Cheques, receipts and passport after which they will stamp your Global Refund Cheque.
If you travel by plane, you have to do this before all check-in formalities or have your goods as hand luggage. At the Atatürk International Airport, the customs office (see picture) is located across the hall on the far right side upon entering.
Once you have your stamped Global Refund Cheque, you can retrieve your money in any Cash Refund Office in the world. The one at the Atatürk International Airport is located inside the tax-free zone and is open 24 hours a day.