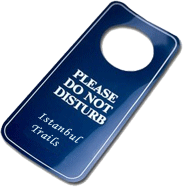 After you made up your mind about how many stars your hotel should have and in what area your hotel should be located, it's time to pick and book one. You of course want to get it at the best possible rate, with the highest discount available. In order to get a good deal, you need to book upfront. The earlier, the better rates you'll get. Let me take you through the options.
Package Deals
Experience has taught me that booking package deals (flight and hotel) with your favorite tour operator often gives you the best value for your money. And it saves you the hassle of having to deal with all of it separately. Tour operators certainly get discounts without bargaining and most of the times they also have similar deals with the airline companies.
The problem is that their brochures often offer only a small selection of Istanbul hotels in the historical part or only a handful of the recommended hotels in the modern part of Istanbul. So maybe the one hotel you liked is not in there. On top of that, your tour operator probably has branches all over the country. And the employees in these branches of course need to get a salary, so often tour operators have good but not the best deals.
The Hotel's Online Booking Service
These days, just like airline companies, the most popular four and five star hotels have their own websites. Not only do they advertise their normal rates, they also provide you with their online booking rates, which are up to 15% cheaper. Prices are mostly in strong currencies such as the Euro or the Dollar, and include taxes. Your credit card will be charged with the equivalent in Turkish Liras, based on the exchange rate on the day you check out.
So booking online directly with the hotel of your choice is definitely worth considering. But often you can do even better than that.
Exclusive Online Booking Travel Agencies
In order to provide my readers with the best possible advice and service, I've been conducting a little bit of research the past few months. I've compared the lowest (online booking) rates provided by the hotels with those of several online booking travel agencies, of course for the same hotels.
In doing so, I noticed that in 95% of the cases, these online travel agencies provided the lowest rates, sometimes up to € 25 per night cheaper. And you still get the same service and facilities (e.g. free pick-up from airport) as you would get by booking directly with the hotel.
From the numerous online travel agencies I researched, I decided to team up and promote Booking.com to my readers. They have a very user-friendly and clear website, have detailed information on every hotel, offer extensive customer reviews about every hotel, and last but not least offer guaranteed the best price.
I Forgot to Book!
In case you somehow unexpectedly do end up in Istanbul without hotel reservations, keep the following in mind. Turks are good traders and love to negotiate about prices. Therefore, never pay the price as listed at the reception. Discounts up to 10% are common, 15% is feasible if you posses good bargaining skills. Discounts are of course subject to availability and whether it's high-season or not. And don't show up with the suitcases in your hands, because they'll see you're in desperate need of a place to stay.