The Haghia Eirene or Hagia Irene (Aya İrini Kilisesi) is a former Orthodox church and the first church built in Constantinople. It is also the only church that was not turned into a mosque after the Ottomans conquered Istanbul in 1453. The Haghia Eirene served as the church of the Patriarchate before the Hagia Sophia was completed in 537. Just like all other monuments in Istanbul, it suffered damages and multiple metamorphoses.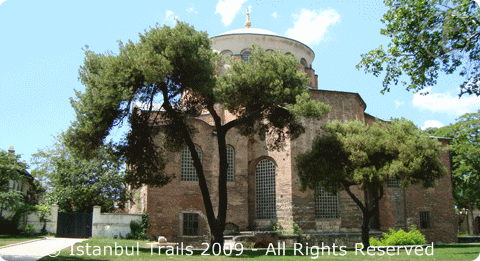 The Haghia Eirene museum, located in the first courtyard of the Topkapi Palace and marked on the Map with Tourist Attractions in the Historical Part of Istanbul. It is open to the public. However, you have to be with a group of at least 10 people and you require special permission to be admitted. You can obtain this special permission from the Hagia Sophia directorate (Aya Sofya Müdürlüğü), who has his office right at the exit of the Hagia Sophia complex. Just ask the guard standing at the exit to guide you to the directorate's manager.
History and Location of the Hagia Irene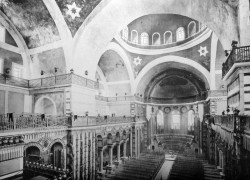 The Hagia Sophia stands on what is believed to be the oldest site of Christian worship in Istanbul. Roman Emperor Constantine I ordered the church in the 4th century, making it the first church built in Constantinople. After being burned down during the Nike revolt in 532, Emperor Justinian I had the church restored in 548. By then the Patriarchate had already moved to the Hagia Sophia, which was completed in 537. Restorations were again required in the 8th century after severe damages caused by an earthquake.
After the Ottoman conquest of Istanbul in 1453, the Topkapi Palace walls enclosed the church. The Haghia Eirene, located in the first courtyard, was not converted into a mosque but used as an armory and booty warehouse by the Ottoman soldiers.
From the 1700's onwards, the church has been a museum. It was repaired by Field Marshall Ahmed Fethi Paşa in 1846, became the first Turkish museum, and from 1908 until 1978 it was served as the Military Museum. Now the museum is under the control of the Turkish Ministry of Culture.
Characteristics of the Hagia Irene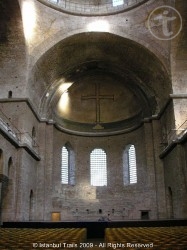 The church measures 100 by 32 meters, with a 15m wide and 35m high dome. Inside are some fascinating features. It still has its original atrium, five rows with built-in seats embracing the apse, and a great simple black cross on a gold background in the half-dome above the main narthex, which dates back from the Iconoclastic period when all figurative images were forbidden. These features didn't survive in other Byzantine churches of Istanbul.
Today, due to its extraordinary acoustic characteristics and impressive atmosphere, the museum is the setting for classical music concerts during the Istanbul Music Festival.