If you want to enjoy a typical Turkish dinner consisting of mezes (Turkish starters) accompanied by one or more glasses of rakı (Turkish national anise-flavored spirit), then head for one of the meyhanes (casual restaurant) in Nevizade Sokak. And although you really can't go wrong with any of the eateries there, my favorite is the meyhane with the same name: Nevizade Restaurant.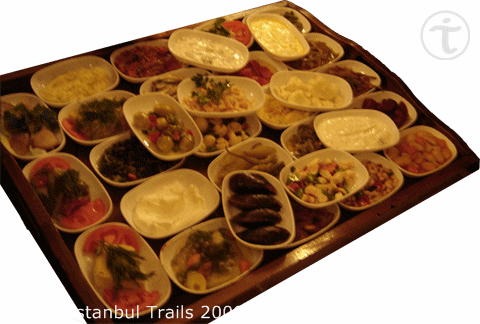 Nevizade (Nevizade Restoran)
Location
Nevizade Sokak No: 12, Beyoğlu
on Map with My Favorite Restaurants in the Modern Part of Istanbul
Tel: +90 212 521 16 34
Open
Daily till past midnight.
Credit cards are accepted.
Make reservations if you want good seating arrangements.
Seating Arrangement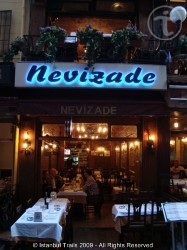 Once you reached the Nevizade restaurant and resisted the tempting offers made by the other restaurant owners in the busy Nevizade Sokak, you have two options: either ask for a table on the first floor (preferably by the window or on the small terrace) or on the rooftop terrace when the weather is hot enough.
Whatever you do, don't sit at the ground level since it may get too noisy and/or busy.
Mezes and Rakı
As soon as you sit down, the waiter will come to take your order while showing a huge plate with over 30 mezes. Don't worry, the ones on the plate are just for display purposes, yours will be freshly made. Each of those mezes (cold starters) cost around TL 5, except for some of the fish dishes. Mostly not on that plate but highly recommended are a portion of white cheese and patçanga böreği, a hot starter consisting of melted cheese and pastırma (dried and smoked meat).
The idea is that each person picks one or two of his or her favorite mezes, which will later be put in the middle of table for sharing. Mezes come with flat bread (pide) and are usually washed down with rakı and water, but you are of course free to order a glass of wine or a beer.
Main Course or Not?
The waiter won't ask you to order a main course yet. It's not uncommon to skip the main course and just stick to the mezes, certainly if you intentionally or accidently ordered a few too many. If you do still have a healthy appetite after the starters, you can choose from an assortment of grilled fish or meat dishes.
As a starter I usually go for: beyaz peynir (white cheese), patçanga böreği (melted cheese roll), kavun (melon), soslu patlıcan salatası (eggplant salad in tomato sauce) and yaprak dolma (stuffed wine leaves). If I take a main course, I usually take the karışık et ızgara (a plate of mixed grilled meat).