Leb-i Derya is one of the first rooftop bars and restaurants – 5. Kat was the pioneer – and still ranks among my favorite establishments in Istanbul. It's simply hard to beat its marvelous views over Istanbul.
In 2007 they opened up their second branch on the sixth floor of the Richmond hotel, but I'll stick to the original one here.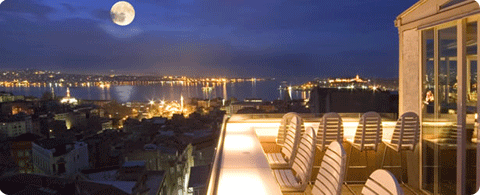 Leb-i Derya (Leb-i Derya)
Location
Kumbaracı Yokuşu 57/6, Tünel – Beyoğlu
on Map with My Favorite Cafés and Pubs in the Modern Part of Istanbul
Tel: +90 212 293 49 89
Open
Daily till past midnight.
Credit cards are accepted.
Make reservations if you want good seating arrangements.
The Challenge

Finding Leb-i Derya may proof a bit difficult, since it's located in a tiny side street of the famous Istiklal Caddesi. Coming from Taksim square, walk almost 75% of Istiklal Caddesi towards Tünel and try to locate a small side street on your left called Kumbaracı Yokuşu.
Once you find the street, walk down the (fairly steep) slope for about 150 meters and look for Leb-i Derya's logo (see picture) on one of the house at your right. Enter the building and climb the stairs to the first floor, after which you'll take the elevator to the sixth floor. From there you take one more flight of stairs.
The Reward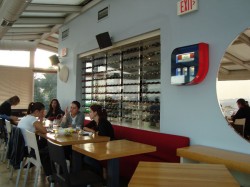 Is it worth all the trouble? Without a doubt! The mix of wood, glass, soft lighting, nice background music and friendly staff makes it one of the most fabulous establishments in the district. Fabulous, not in the least because of the views it has to offer.
Therefore, try to get a seat on the small terrace to enjoy the full flavor, preferably around dusk. There's nothing that can beat sipping from your favorite aperitif while gazing at the Bosphorus, the Golden Horn, the nicely lit monuments of Sultanahmet or all the way to Kadıköy on the Asian side.
Leb-i Derya may not offer the cheapest drinks in the city, but is certainly one of the most stylish ways to have them. And keep in mind before ordering another one, there is still that slope on the way back.
From what I heard, Leb-i Derya also has an excellent kitchen, but I unfortunately can't vouch for that.