After visiting main tourist attractions such as the Hagia Sophia, the Blue Mosque or Topkapi Palace and before descending into the Basilica Cistern or heading to the Grand Bazaar, people often end up in the Sultan Pub for a refreshing drink. Not surprising, given its location. It's the first pub you come across on Divanyolu Caddesi. But by taking a few strides extra, you can save quit a bit of money!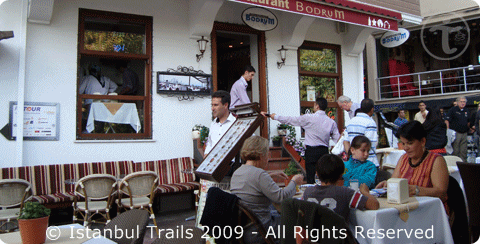 Bodrum Cafe & Restaurant (Bodrum Cafe & Restaurant)
Location
Divanyolu Caddesi, Şeftali Sokak 16, Sultanahmet
on Map with My Favorite Cafés and Pubs in the Historical Part of Istanbul
Tel: +90 212 526 94 71
Open
Daily till around midnight.
Credit cards are accepted.
The Bodrum Café & Restaurant is located next to the Sultan Pub, which is the first establishment you'll see on Divanyolu Caddesi while coming back from Sultanahmet Square. With its nice outdoor tables located on the corner of the street, it's an excellent spot to enjoy a refreshment and watch the world go by.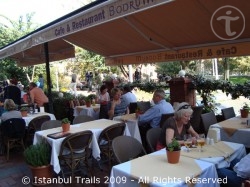 But if you make a right and walk less than ten meters extra, you'll find the Bodrum Café & Restaurant. It also has an outside terrace with comfortable chairs and there are still plenty of people walking by to observe. But, not only do they serve the same kind of drinks, they charge significantly less. On top of it all, the pub is located adjacent to the park, hence further away from the tramway (noise).
Don't get me wrong, there is nothing wrong with the Sultan Pub, but why settle for it when just a few steps further you can get more value for your money.
They also serve food, but I never ate there. For a quick snack, I prefer the Sultanahmet Köftecisi around the corner and for a full course dinner I there are better restuarants in my Istanbul food and beverage guide.