A month ago, Midpoint Café & Restaurant opened up its eighth branch. In Taksim of all places, the heart of the modern part of Istanbul. And not just somewhere in Taksim! It's located right in the middle of the busy Istiklal Caddesi shopping street.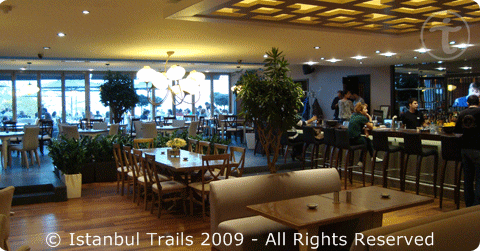 Midpoint (Midpoint)
Location
Tom Tom Mah., İstiklal Caddesi 187, Beyoğlu
on Map with My Favorite Cafés and Pubs in the Modern Part of Istanbul
Tel: +90 212 245 70 40 – 41
Open
Daily till past midnight.
Credit cards are accepted.
Make reservations if you want good seating arrangements.
Two Seasons, Two Views
The café and restaurant is designed to please you no matter the season. For the colder days they have a spacious covered area consisting of a nice mix of wood and glass, with giant windows facing İstiklal Caddesi from where you can watch the Istanbul people mix stroll by. Noteworthy is the fact that if the weather permits, these windows can be opened completely.
From spring to winter however, there is the roof terrace. Not a high-rise one, but still enough to provide you with a nice glimpse of Kadıköy on the Asian side, Topkapi Palace, the Hagia Sophia and the Blue Mosque in Sultanahmet, and the entrance to the Golden Horn.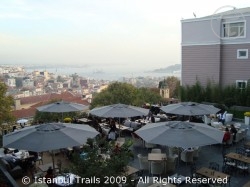 I was lucky. Not only did the mild November weather allow me to sit outside, arriving at 18:00 without reservation proved to be just in time. By 18:30 there was not a single table left on their rather big terrace. Sure, they could have stuffed some more tables on it, but apparently the people at Midpoint understood that sitting like sardines in a can is not good practice. No matter how comfortable the chairs are. Bottom line: since you're most likely to arrive a bit after six in the evening, make reservations.
Excellent Food and Service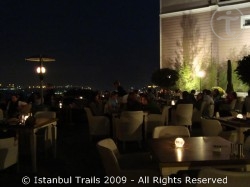 With the sun setting, the candles being lit and nice background music putting me in the right mood, I ordered the Chicken Quesadella (TL 13,5). A very tasty tortilla filled with a sautéed hot pepper mix, chicken pieces, yellow cheese and served with French fries, Mediterranean greens and a salsa sauce.
A tough but excellent choice out of their very varied menu with starters (TL 12-15), salads (TL 13-17,5), sandwiches , burgers, quesadillas, wraps (tortilla) and burgers (TL 12-15), pastas (TL 12,5-15,5), 12 chicken dishes (TL 16-17) and over 15 meat dishes (TL 19-21). I wouldn't recommend the place if you're a fish connoisseur, with only 5 fish plates on the menu, each TL 20.
During the weekdays and until noon you can have a breakfast plate for TL 17,5 but in the weekend you have two hours extra to order. Drinks are all reasonable priced between TL 8-9.
Exactly Midpoint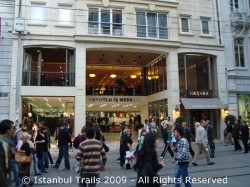 You can't pick a better location to open up a café or restaurant called Midpoint. But that doesn't mean it's easy to find the place. Coming form Taksim Square, you walk down towards Tünel and pass Çiçek Pasajı, Balık Pasajı, Galatasaray Lisesi until you reach Oda Kule on your right. You can't miss really; it's one of the oldest and now ugliest 'high-rise' office buildings in Istanbul, with a small shopping arcade underneath it.
Right across from it, on your left, you'll see yet another shopping arcade – İstiklal Caddesi has plenty of them – and the entrance to Midpoint right next to it. Enter the building and take the stairs (no elevator!) to the first floor.
If the small flight of stairs didn't make you breathless, the stylish room will. From the outside you would never give it a worthy look, but they really outdid themselves in renovating this previously shaggy 'beer garden'.
In the future I think we'll see people meet more and more in Midpoint instead of standing in front of the Galatasaray Lisesi gates.