The Turkish national dish is undoubtedly the kebap. Kebap refers to a variety of meat dishes, consisting of grilled or broiled meats (usually lamb or beef) on a skewer or stick.
The word kabab is ultimately from Arabic and originally meant fried meat, not grilled meat. Only in the Turkish period, did kebap gain its current meaning. Turkish tradition has it that medieval Turkic soldiers who used their swords to grill meat over open-field fires invented the dish.
One of the most famous kebap dishes is undoubtedly döner. But the kebap comes in many forms, of which you'll find a wide variety in Istanbul. Take a look at the list below so you know what to order … and to expect.
Grilled Kebabs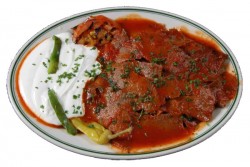 Adana Kebabı – Minced meat (lamb), dried red and green hot pepper, garlic and fresh red pepper are kneaded, coated on the skewers and grilled.
Antep Kebabı – Minced meat is kneaded with red hot pepper and salt, grilled and served with pide (pitta bread), onion, tomato and green pepper.
Çağ Kebabı – Very thin sliced lamb meat is rested in onion, yogurt, salt and pepper for a day, put on a skewer, and then grilled. Thin slices are cut like döner and served on skewers with grilled pepper, tomato and onions.
Döner – Pieces of meat and minced meat are put on a big skewer, cooked vertically by spinning it next to the grill. If you know that dönmek means 'to turn', then you understand the origin of the word döner. Thin pieces are cut like leaves with a big knife. Can be served on a plate, in between bread or with pide. Döner dürüm is wrapped in lavaş (tortilla like thin leaves of bread) with some tomato, lettuce, pickles and fried potatoes.
İskender Kebap – Döner meat is laid on pieces of pide dressed with butter. Yogurt is served on a side of the plate and if preferred tomato sauce and extra butter can be used for dressing. It is also known as Bursa Kebabı.
Patlıcan Kebabı – Minced meat, salt and pepper kneaded and meatballs are put on the skewer in turns with big pieces of aubergines. Served with grilled tomatoes and peppers.
Şiş Kebap – Small cubes of lamb meat are rested in onion, yogurt, salt, pepper and olive oil for two hours and then grilled with cubes of pepper and tomato.
Urfa Kebabı – Minced meat (lamb), dried red hot pepper, onion, tomato and parsley are kneaded, coated on the skewers and grilled. Served on small pieces of pide and dressed with gravy.
Stove or oven cooked Kebabs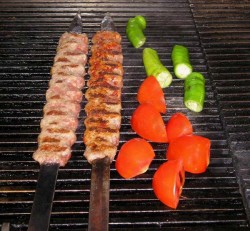 Alinazik – Roasted small chopped pieces of steak or minced meat are served on top of the mash of broiled and peeled aubergine, yogurt, garlic and spices.
Beyti Kebap – Minded meat is kneaded with tomato, tomato paste, garlic, parsley, salt and pepper. Wrapped in lavaş (see above), baked and served with tomato sauce and yogurt.
Buğu Kebabı – Small pieces of lamb meat are cooked with tomato, shallot (small onions), thyme, daphne, salt and pepper in casserole (clay pot) covered with dough not to let the steam go out.
Kağıt Kebabı – Sebzeli kebap (see below) is cooked, wrapped in fireproof paper and oven cooked some more.
Sebzeli kebap – Pieces of meat cooked in a pot with various vegetables like onion, potato, carrot, tomato, aubergine, pepper.
Tandır Kebabı – Lamb chops (legs) are baked with lemon, onion, tomato and green pepper, served with fried potatoes.