As a tourist, chances are that you'll be visiting a mosque at one time or another. If not, you will be missing out on several of Istanbul's most beautiful sightseeing spots, such as the Blue Mosque and the Süleymaniye Mosque.
As a non-Muslim, you're welcome to visit them, as long as you observe a few simple rules, which may be different for men than and women.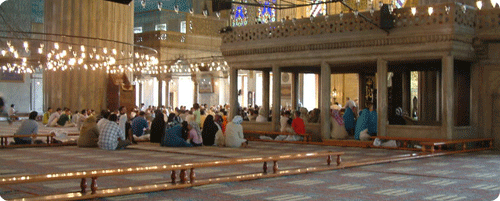 Dos and don'ts
Don't enter a mosque during prayer times (see below).
Dress modestly. Shoulders and knees should be covered. If this is not the case, larger mosques may loan you special attire free of charge to cover them. Make sure to bring your own if you plan to visit mosques that aren't on the typical tourist routes, e.g. in Fatih.
Women should cover their hair. Again, in bigger mosques you may borrow a headscarf to cover it, free of charge.
Remove your shoes before entering a mosque. You either leave them outside or carry them in a bag. Alternatively, in some places they may provide you with plastic covers to slip over your footwear.
Don't eat inside a mosque. Even outside prayer times, don't disturb worshippers who may be praying. Don't stand close to them or walk in front of them.
Make as little noise as possible, and preferably switch off your mobile phones.
Taking pictures or shooting video footage inside a mosque is allowed, but don't point your camera at people praying or at believers in their ablution process outside a mosque.
The entrance to mosques is free, but donations are highly appreciated.
Prayer times
Muslim believers should pray five times a day. The prayer times (namaz vakitleri) are called Sabah (dawn), Öğle (midday), İkindi (afternoon), Akşam (sunset) and Yatsı (night). The five daily prayers are obligatory. The prayer times are determined by the position of the sun in the sky. Hence, they vary on a daily basis and according to your location on the planet Earth. Therefore Öğle for instance, will not start at the stroke of noon, but will occur somewhere between 11.50 and 13.00.
It is beyond the scope of this blog to provide you with the exact daily prayer times. They are normally posted outside each mosque. And even if this is not the case, you will be notified when the imam calls for prayer (ezan). From what I'm told, you should be able to hear his call regardless of your location in the city (or Turkey for that matter).
To give you an idea around what time you can expect the five prayer times, look at the following overview:
Winter

Sabah – 06.30-07.30
Öğle – 11.50-12.50
İkindi – 14.30-16.30
Akşam – 16.30-19.30
Yatsı – 18.30-21.00

Summer

Sabah – 05.50-06.40
Öğle – 13.00
İkindi – 16.15-17.00
Akşam – 19.00-20.40
Yatsı – 20.30-22.30
Click here to find the exact Turkish prayer times.