The James Joyce Irish Pub is the only authentic Irish bar in Istanbul. It has been around for years and has become an integral part of the Istanbul bar scene. With daily live music, sports TV nights, folkdance lessons and easy listening music during the day, the Irish Centre is a great place to socialize until the early hours.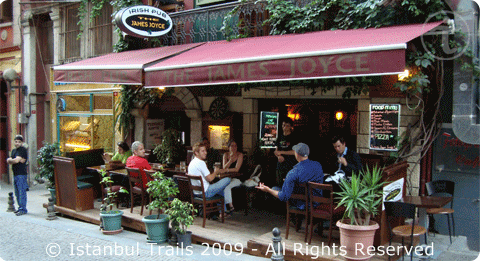 The Irish Centre (James Joyce Irish Pub)
Location
İstiklal Caddesi, Balo Sokak 26, Beyoğlu
on Map with My Favorite Cafés and Pubs in the Modern Part of Istanbul
Tel: +90 212 244 79 70
Open
Daily till early morning.
Credit cards are accepted.

Multipurpose Pub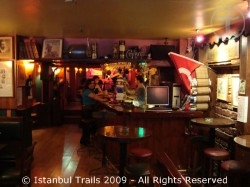 The James Joyce Irish pub moved to its current and probably final location in March 2004. An excellent choice, since it's now only a few meters away from Nevizade Sokak, one of Istanbul's famous night-life streets, and a side street of Istiklal Caddesi.
In 2008, the Irish Centre underwent a very successful facelift. With lessons learnt from the first four years, the current interior design and layout are excellent to serve all of the pub's entertainment goals:
a relaxed atmosphere to socialize over a drink or a snack, without loud music (until the evening)
being able to receive plenty of customers, yet don't give an empty impression during the daytime
ability to show concerts and sports programs or play a game of darts without disturbing regulars that just want to have a drink
provide a quiet corner for romantic souls or people who want to read a book
a stage for live performances
plenty of space to dance the night away until early hours
a small boutique hotel consisting of seven rooms (to be opened in 2009)
Irish Pub with a Mixed Crowd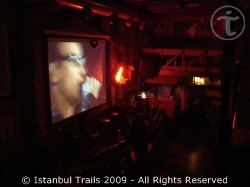 You definitely don't need to be Irish to visit James Joyce. While the pubs character and décor is Irish, the crowd is most certainly not. On any given night, you'll find a nice mix of Turks, expats and tourist from around the globe.
The Irish Pub really gets packed for soccer nights with Turkish derbies or international matches, and during the weekends with live cover bands performing. If you're more into traditional Irish music, then make sure to cross out Sunday and Monday evenings in your calendar.
Guinness in a Can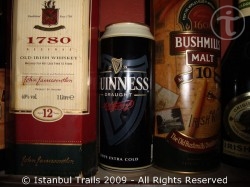 The Irish Pub has a nice selection of food and beverages. A typical Irish breakfast (bacon, sausages, eggs, mushrooms, tomatoes, chips and salad) is served all day and will set you back for TL 17,5. You can also choose from a nice variety of appetizers (TL 7-10), pizzas and main dishes (TL 10-18) and desserts (TL 7,5).
I had the hot cream cheese jalapeño poppers ( deep fried nuggets of cream cheese an hot jalapeño pepper). Although listed as an appetizer, it made me cancel the main course since portions are certainly not small.
Of course, an Irish pub wouldn't be complete without a decent range of beers (TL 5-7) including, albeit not from the tap, a pint of Guinness. You may also be tempted to try their fine selection of Irish, Scottish and international liquors.